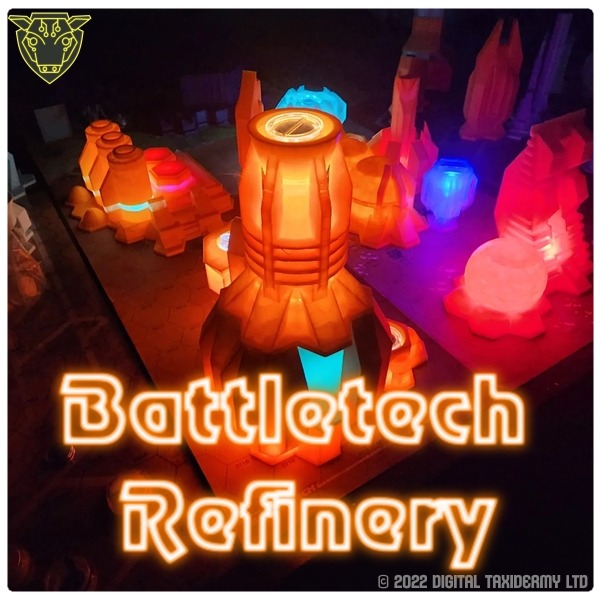 Battletech Refinery - New Set From Mecha-Madness
---
Welcome to every mining planet in the Galaxy, time to crack it open for Minerals. Well time to make a profit...or steal the stuff? Who knows?!
---

Mecha-Madness is back with another outstanding offering for fans of battletech and other 6mm epic scale games.

Continuing with his theme of giant corporate and industrial mega structures that cover the cyberpunk genre, these buildings buildings fit on the battletech hex maps but are still suitable for other 6mm and even 28mm tabletop gaming boards.

Each building is made in such a way that it incorporates room for an LED light to be aded inside to give it an amazing glow for night fighting scenarios.

Check out this campaign for more details. This campaign will be delivered through Digital Taxidermy in the usual way.


From Mecha-Madness:
This is a 30 year dream for my Battletech Fan Service, I had dreamed of what refineries and reactors in the 3025 era looked like and what factories would be shaped like.

Well using my recent experience with designing terrain I would combine the two and share it with the world.

Please help me bring this to life on Kickstarter
---
---

This 3D model set fits with any futuristic, post-apocalyptic, cyberpunk or dystopian wargaming tabletop setting.


The set contains a series of industrial buildings, including:

All the money is made here or so the engineers think.

The raw materials from the frakking unit are melted down in one "Tub" and passed through piping into the second "Tub" and fusion energy is pushed out underground, water is pushed into the cooling system and through a processing plant to give the workers access to clean water.

The remaining cooled materials are processed out for shipment in the ends of the facility.
---
---

The Frakking Core extracts from deep underground by you know science.

Needless to say adding the internal convesion core unit as seen in the picture speeds up the process of moving materials in smaller elements that fit into smaller quantities and be transported by vehicles and the pipe system ramping up production.

Shooting this building could trigger a meltdown no one wants to be within 5 miles off.

Be wary warriors.
---
---

The main office and coffee maker are here.
This is part administration but also the logisitical hub of the facility. Finally smelting happens in one of three dudlrums, while the processing tanks one or two process to order in vast quantities.

This place is buzzing 20 hours a day while the front office is in 3 shifts 24 hours a day.

Holding this buildings will always count as holding or controlling the facility.

All of the other buildings can be controlled directly from this plant. If there are any gun turrets they would definetly be controlled from here.
---
---

This STL file set is printable on FDM 3D printers such as the Creality Ender 3. Print the model with a 0.4mm nozzle at 0.2mm layer height for best results.
These files have been printed and tested on FDM Machines.

Supports are not required for these STL models.
---
There are even free test files which you can get from our website here:
---
This 3D model set is designed for 28mm tabletop games such as:
Judge Dredd, Stargrave, Necromunda, Fallout Wasteland Warfare, Hope Eternal, Infinity, Konflikt '47, Kill Team, WH40k and Star Wars Legion. It also adds flavour to RPG's such as SLA Industries and Paranoia!, 5 parsecs from home.
---
---
---