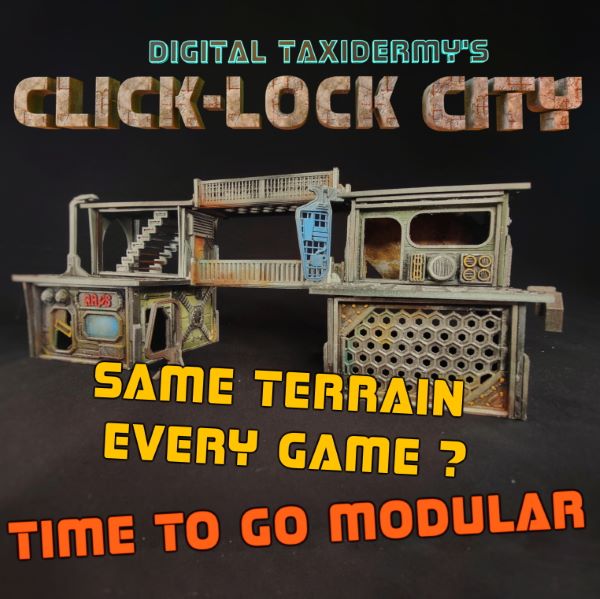 Click-Lock City - Modular Glue-less Construction set
---
Are you tired of Printing boring buildings?

Get ready for an exciting new 3D printing opportunity - we have a fresh modular terrain just for you!

This project is particularly unique and innovative, as it represents the next generation of tabletop gaming terrain.

The system is designed with a series of modular parts and panels, making it both versatile and easy to assemble.

Get ready to take your tabletop gaming experience to the next level!
---
---
---
Looking for gaming terrain you can customize?

3D Printed Panels slot together to make feature buildings.

Then there are parts that make unique larger area buildings.

These can be stacked to create a great variety of settings, from suburban shopping markets to towering skyscrapers.
---
---
Bored of setting up the same scenery every time?
The 3D printed set is infinitely configurable, and we are constantly working on making a vast array of styles, decorations and modifications.

You can quickly build massive cities full of unique buildings that are all full of character.

Every 3D printed joint connects using our Click-Lock system and can be taken apart, requiring no glue to assemble or hold it together.

Everything goes together with a satisfying snap fit.

3D printed terrain never came with so many options before.
---
Do you want something less static from gaming terrain?

Not only do you have the ability to make amazing buildings using a vast number of 3D printed parts, but you'll also get print in place parts for opening doors and shutters.

On top of that we have a set of working 3D printed doors that give you working up-and-over garage doors, and a sliding roller shutter door too.

The moving doors give the models a satisfying tactile experience that really bring them to life.

3D print and craft anything from tabletop scenery, to small doll's houses for your kid's toys.
---
---
---
We have begun experimenting with painting styles, and testing how well the 3D printed details accept paint.

We are pleased with the results.

And for all those that want to learn how it was all done, here is a painting tutorial where we show you what you can achiever with some very simple techniques
---
---
---
The 3D printed city is growing exponentially as the days go by, new panels, new designs and new styles being added to the mix.

The Base set contains over 750 STL files and the new Click-Lock Duplex will add another few hundred to the mix.
---
---
But What about the rest of the table?

We are also taking the Click Lock System and applying it to smaller scale items to create print-flat scatter pieces and decorations such as benches, street lights, sign boards, barriers, bridges and more.

Giving you not just buildings but also easilly printable scatter terrain and decorations aswell to boost your 3D printed tabletop experience,
---
---
These models are designed for FDM printing and are tested on and Ender 3 and will fit most printers on the market.
Support free, print flat design allows you to save filament while achieving a great detail and having outstanding durability.
So now you know all about it, why not download the test file and get started on your modular journey.
---