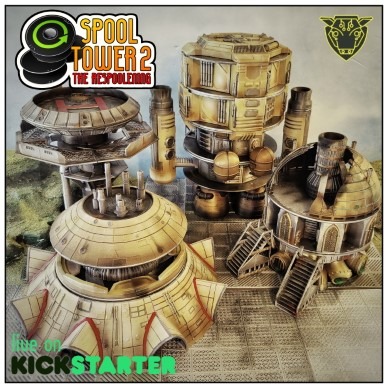 What is a Spool Tower
Maybe you already know of Digital Taxidermy or maybe you are new here, either way it's about time for us to look at humble beginnings, far off in the mists of time, two little boys were working out what to do with their lives when the idea of Digitally stuffing the world into the computer seemed like a good idea at the time.
Thus, the stuffing commenced, and Digital Taxidermy was born.

Fast forward 6 months and we had completed our first Kickstarter 'Our Dystopian Future', which had the proto-Spool Tower in it. This office block was designed as a way to make a large, interesting building by adding modular boxes to filament spools that would otherwise end up in landfill, giving you a great peice of 3D printed terrain for your tabletop that has variety and have that dystopian oppressive look.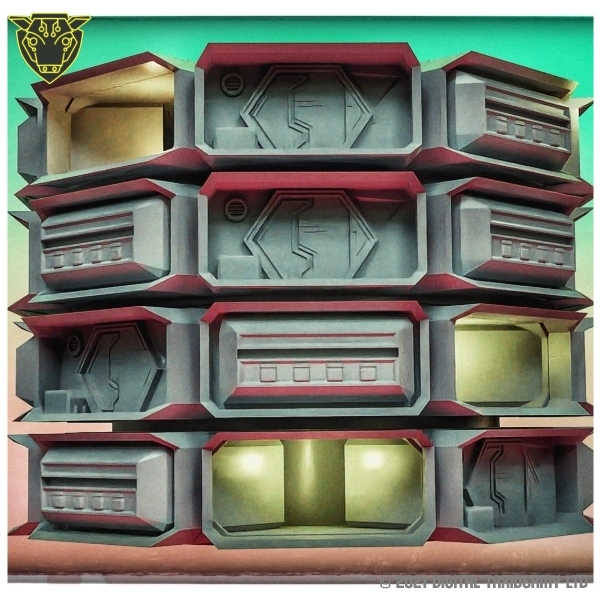 Following on from the response from this and while having a shower one morning, Theo was struck with a brilliant green thinking, recycling idea:
This set out the design goals for the original Spool Towers:
- Thin walls using minimum filament, saving material and making efficient 3D printable models.
- No infill where possible to reduce time and plastic in production.
- No supports, for fast efficient printing times
- No need for special slicer settings for easy trouble free preperation
- Fun and detailed designs to enhance your tabletop gaming experience
- Scalable designs to fit the multitude of spool styles so nothing has to be thrown away.
- Inspirational model kits to bring the modelling back into the hobby and inspire your creativity.
We set to work and produced a few more towers and concept art for enough wargaming terrain to build a list of stretch goals and we took it to Kickstarter, we kept the project low key before the launch because we didn't want the idea to be stolen before we were ready to release.
And thus, Spool Towers - Multi-level Modular Terrain System was born:
The Kickstarter was a stunning success and was snapped up by hundreds of people who recognised the potential to save vaste amounts of 3D printing plastic waste from landfill.
We had our work cut out for us, we had to design, test, and build 20+ different complete Spool Towers and accessories.
In the end we got 446 backers for the project and shattered all the stretch goals.
It was a busy few weeks, and we grit our teeth and set to it and rounded out everything in time for delivery and sent them out into the world.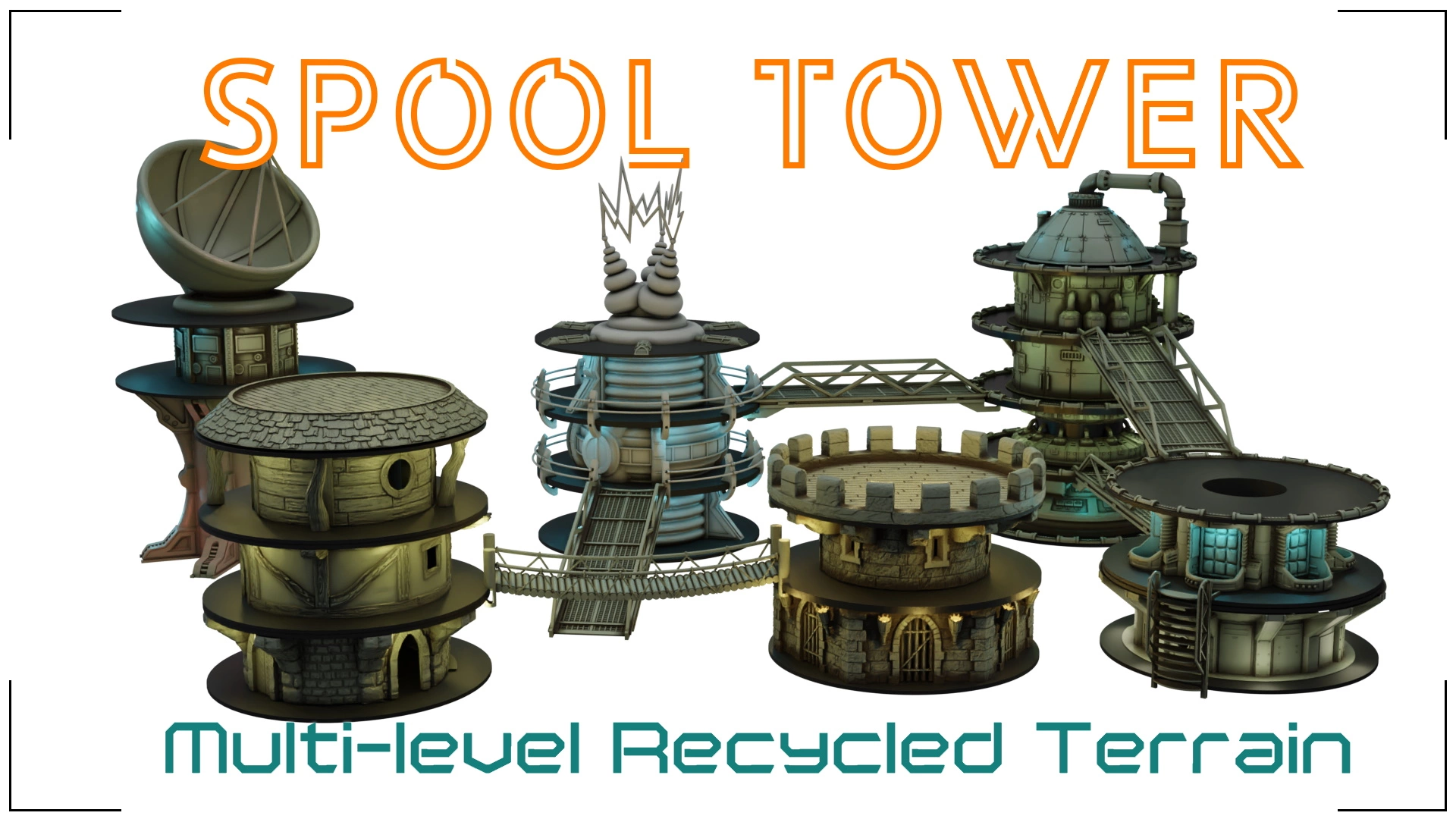 Our backers set to work making use of their empty reels and creating amazing artwork. We then took the feedback from that campaign and went off to experiment with some other techniques and design ideas, but we never took our eyes away from Spool Towers. We created some other towers for our follow up campaigns the Lost Bio-Lab and Trewell Common.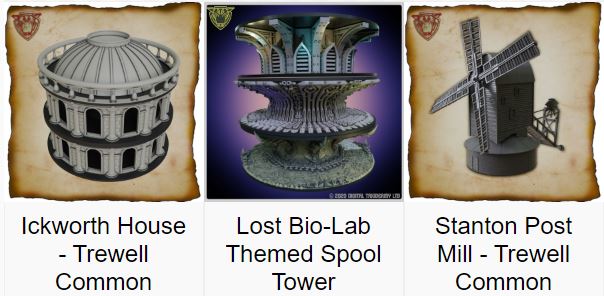 Around 6 months ago we began looking at the future for terrain from trash and began putting down some designs for Spool Towers 2.
Soon there was a vast array of ideas for reusing useless spools, and concept works for lots of different settings and genres.
As usual there was a lot of buildings and terrain but also we had some vehicles that we didn't know what to do with.
So, we put them together and created a platoon of Spool Tanks and ran that Kickstarter.
Which leads us up to the present.
Spool Towers 2 - The Re-Spoolening is here, it's on its way, fast.
We will be releasing images teasers and updates as something new comes from the workshop.
Currently designs are done, test printing and modification is underway, we are now going through applying quality control to all the models and preparing all the campaign media and more.
So, it's going to be a long road but we will be right there with you all the way through and beyond.
Below is some of the arty concept designs we have been working on: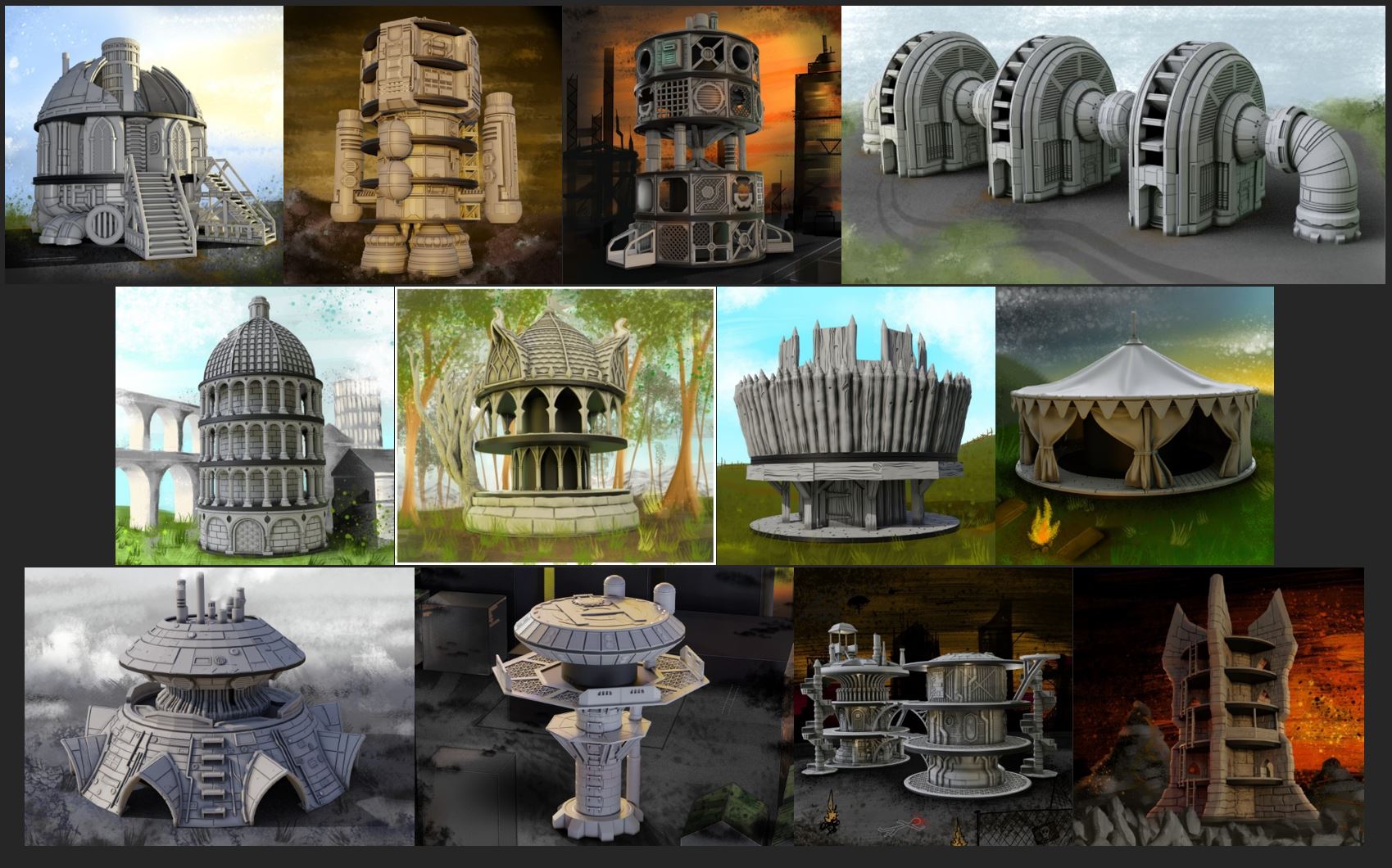 If you haven't tried out Spool Systems yet, then this is a great time to try it out.
We have a free Spool Tower demo model with the detailed fitting guide included.
Check out Olde Taxidermee Shoppee and Sci-fi Hab Block
we have had some Lovelly fans share some of their work lately and it has been fantastic.
Check out their work and others in the Digital Taxidermists group
Thanks for taking the time to catch up on the history of our ecological design choices and we look forward to seeing you down the road.
Take a moment to check out the Spool Tower 2 Kickstarter and we hope that you will join us in reducing plastic waste and improving gaming tables around the world.